Call us at: +1 845 228 8700 Our Goal
:
To manufacture antenna systems that are of the highest quality and which are built for a lifetime of use
Why Choose JK Antennas?

There are many antenna manufacturers for amateur radio operators to choose from. What makes us different?
We design and build the antennas we would want to use, with
¬ The highest quality materials, all made in the USA
¬ Heavy duty design, calculated to withstand powerful winds and heavy icing
¬ Tailored to the needs of our customers
We build our products to last. We know, from personal experience, the frustrations of replacing sub-par antennas, and antennas that do not perform as advertised. Once you get our antenna on the air, we want you to stay on the air. We want our repeat customers buying new bands of antennas and recommending us to their friends, not replacing antennas that have broken down after three or four years.
The Man Behind JK Antennas
I have been an amateur radio operator for over thirty years, presently operating as W3JK in the United States and JG1FXW in Japan. I especially enjoy DX'ing, and have many friends and contacts throughout the world.
It was, in fact, DX friends from Kuwait, Oman & Japan who started me on the path of antenna design and manufacturing. Not able to find HF antennas to meet their needs, they urged me to pursue my designing and ultimately manufacturing of high-quality antenna products. I saw that there was a niche market of hams who had a need I could fill.
And so, JK Antennas was launched.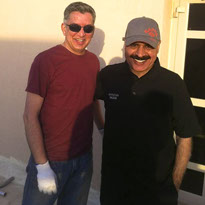 We are proud of our work and stand behind our products 100 percent.

The next generation in design, quality and manufacturing